Read my Group A predictions
here
,
and my World Cup Draw "Deathiness" rankings
here
.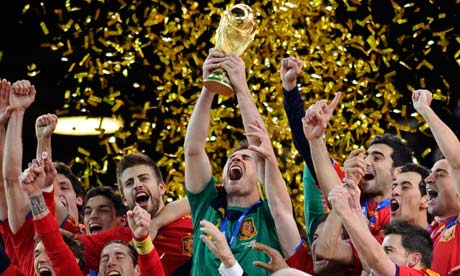 Possibly the greatest national team ever assembled
Group B: Spain, Chile, Australia, Netherlands
I just did at least a half hour of research, and I can definitively conclude, thanks to Wikipedia, that this is the first time that the finalists from the previous World Cup are in a group together. The United States can rightfully be disappointed with the talent level in their group, but Australia must be absolutely devastated.
Prediction: Spain win group, Chile 2nd.
Spain.
Not much to say about Spain. Their one-touch passing game is orgasmic (see above). They've won three of the last four major international tournaments in which they were entered, including the 2008 Euro, 2010 World Cup, and 2012
Euro. In the process, they became the first nation to win back-to-back European Championships and the first to win thre
e straight international tournaments.
But,
you might be wondering,
if they've won so much since 2008, don't they have to be getting kind of old?
Kinda. But all their old players are incredible.
Their keepers are all 31 or 32. That's fine, they're keepers. Besides defensive stalwart Carles Puyol (35), their oldest defender is 31. Besides midfield maestros Xavi and Xabi Alonso (33 and 32), their oldest midfielder is 29. Besides prolific goalscorer David Villa (32), their oldest forward is 29.
Their tiki-taka style will see them through this group in style. Australia will be a walkover, Chile don't have the defensive prowess to hold Spain down, and I'm predicting the downfall of the Dutch.
Chile.
Dramatization of Chile's fans coming to Brazil.
I have a good feeling about the Chileans. I don't have any real data to back this feeling up. It's what the experts call
a hunch.
I just think that all too often, the World Cup group stage gets away from a team in the first game and momentum, good or bad, can snowball into the next two games. Chile gets Australia in the first match, allowing them to bring some positive vibes into a match against the defending champs.
My prediction that Chile will take second in this group is powered essentially by the idea that some of these games will be home games for the Chileans. All of their matches are in southern Brazil, close to their home nation. They made it to the round of 16 in 2010, and I envision a home continent repeat of this feat, powered by gobs of goals from Barcelona star Alexis Sanchez and a surprise appearance from the aging legend Humberto Suazo.
Netherlands.
"I'm... so.... old..."
The Netherlands topped their group in qualifying. This group was made up of powerhouses such as Andorra, Estonia, and Hungary. Real strong teams. They've also recently played friendlies against such notable world powers as Indonesia and China, two Asian sides sure to strike fear into the heart of any footb
all fan.
Basically, they haven't played anyone good in a competitive match in forever. Two recent friendlies against Japan and Colombia produced draws, disappointing results in that both matches were essentially at home (the Japan game was played in Belgium - kind of like if the Red Sox played the Padres in Providence).
Their top players are getting up there in age (though the grandfatherly Arjen Robben is still only 29), and no European team has ever won a World Cup in the Americas. Top forward Robin Van Persie has been out with a groin injury since early December, and groin injuries are notorious for niggling. I'm thinking a collapse is in order as the pale Dutchmen fail to fly.
Australia.
"Join me in death."
I feel bad for Australia. Really, I do. Apparently it's a great country. Good reefs. Awesome accents. Hot girls. Killer shark attacks. However, the one thing that the ol' prison colony doesn't have is a competitive soccer team.

Australia is the lowest-ranked team in the World Cup according to FIFA's notoriously flawed ranking system, and they've been chucked into the fire like so many shrimp onto the proverbial barbie. Rest in peace, Socceroos. Consider a goal a celebratory event, and a draw a win.