Get ready for a whole lot of this
Group A: Brazil, Cameroon, Mexico, Croatia
Even though I'm in a highly competitive ESPN World Cup Bracket Challenge (you can join it
here
- search for the group named "Landy Cakes." The password is "landycakes" - go figure), I'm not afraid to share my prediction for the World Cup champion. It's Brazil. I simply can't see how the
Seleção
fail to win this tournament.
To win the tournament, of course, you've got to escape your group. And the Brazilians are uniquely poised to do just that.
Prediction: Brazil win group, Croatia 2nd
Brazil.
The only thing that Brazil has to worry about is succumbing to the pressure of their soccer-mad country. It's hard for Americans to understand the passion that Brazilians have for soccer. I'm the first to admit that I don't fully grasp the power that this sport holds over the country, but you can see it in the faces of the players during the Brazilian national anthem. If this video doesn't scream "Clear eyes, full hearts, can't lose," then I don't know what does.
Personally, I think this Brazilian team is in a terrifyingly perfect position to win this World Cup. The national anthem, the pomp and circumstance, the feeling of every countryman's eye and heart resting on your movement on a rectangle of grass - this is what these Brazilian players have been working towards for their whole lives. And, crucially, many of them have not had to wait long to get it.
A good word to describe the Brazilian team is "ripe." Often, pundits say that the "time is ripe," but I think that this particular squad of players is ripe. They are built with a terrific mix of experience in back, youthful exuberance in the midfield, and more experience (plus a once-in-a-generation young superstar) up front - check it out:
GK: Julio Cesar (34)
Defenders: Dani Alves (30), Maicon (32), Thiago Silva (29 - universally lauded as a top 3 defender in the world), David Luiz (26)
Midfielders: Ramires (26), Oscar (22), Paulinho (25), Lucas (26)
Forwards: Neymar (21 - the aforementioned superstar), Hulk (27), Robinho (29)
Getting into the weeds for a minute here - pressure on a soccer field generally manifests itself in player mistakes, and player mistakes happen when a player has time to think. Further, "time to think" is something that midfielders and forwards have much more of than defenders. While a relatively ageing Brazilian back line might feel like their World Cup window is closing, they'll be too busy sweeping opposing attacks aside to notice it. The joyous, swaggerous, swashbuckling Brazilian football will be back in good hands in this World Cup - the hands of the youthful offensive playmakers who will shoot, dribble, and pass first, and ask questions of their legacy later.
OK, enough Brazilian ballwashing. Let's discuss (briefly) the three inferior squads in Group A.
Croatia.
Ranked 16th in the world, Croatia is a very respectable football team. Which is not to say that all their players are
respectable human beings
. Even without the services of the Nazi mentioned in the previous link, Croatia will likely gain enough points to see them out of this group. They have tested, high-level defenders in Darijo Srna, Vedran Corluka, and Danijel Pranjic, as well as 24-year-old Southampton back Dejan Lovren.
Their midfield is anchored by true superstar midfielder Luka Modric, a 28-year-old maestro who can dictate the tempo of a game as well as anyone in the world. Modric will be the lynchpin for this team, and if he can slow the game down enough, the high-flying tactics of Brazil and Cameroon might be stifled.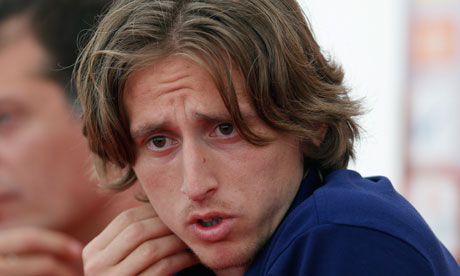 Aaron Carter is his stylist.
Croatia don't have a lethal finisher in the mold of aged legend Davor Suker, but Mario Mandzukic and Nikica Jelavic might be able to use their 6-foot-2 frames to outmuscle smaller Mexican and Cameroonian (Cameroonan? Cameroonish?) defenders.
Mexico.
Despite their recent run of form, including an abject beatdown of New Zealand in a two-game series to determine who would make it to the World Cup, I can't see Mexico getting out of this group. Yes, they play their home games in a hot, muggy, smoggy, loud, oxygen-deprived, atmosphere, so you'd think they'd be used to Brazil. But the problem lies less in the climate or fitness of the players, and more in the fact that the Mexicans simply can't find the net lately.
Granted, this may change in the run-up to the World Cup, but there are only so many tactical adjustments you can make. They're already on their fourth manager of 2013(!!!), so I don't see any more changes coming on that front. Miguel Herrera has led them to the World Cup, but he doesn't have the weapons to compete with Brazil, nor to put enough goals past Croatia's stout back line.
Doing what he does best - sitting (though not on the defender's back shoulder)
Chicharito (Mexico's poaching 25-year-old forward) is not a player who can create his own shot - he needs service in order to thrive. He also is not listed on the team's current roster, though that might just be because he picked up an injury in training at Manchester United. I can't see him being left off the World Cup roster.
In any event, teams with no playmakers facing stout defensive teams generally don't fare well. Adios, Mexico.
Cameroon.
It saddens me to put the Indomitable Lions in the last position in this group, mainly because their nickname is "The Indomitable Lions." How freaking cool is that?? Plus, they have easily the
sweetest shirt design
out of all of the countries so far unveiled at Clean Sheet's website. Seriously, check this baby out.
Rawr.
In any case, the Lions have a lot to like. First of all, the schedule favors them slightly. They play Mexico first in a crucial match. The loser of that game will most likely come last in the group, as the games only get harder from there. They also have a world-class player at every level of the team, with Tottenham Hotspur defender Benoit Assou-Ekotto, Barcelona midfielder Alex Song, and Chelsea forward Samuel Eto'o (who is always running).
However, I just don't feel good about their chances. African teams rarely travel well. With barely any research to back this statement up, I still feel it's true. Think about it from an economic standpoint: Croatians probably have some disposable income, Mexicans will most likely travel well just due to their extraordinary fan support, but Cameroon's traveling party will be much smaller. That bodes ill, especially when they're chucked into a group with the host Brazilians. The Indomitable Lions will be dominated.