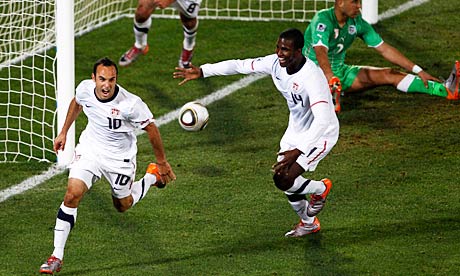 Remember this beauty?
The draw for the 2014 World Cup is almost here. Just over two weeks from now, on December 6, we will know exactly who this band of merry 'Mericans will face in the most colossal sporting tournament on our great big blue planet.
I can't wait two weeks. Fortunately,
NBC Sports
has pointed me in the direction of something highly addicting, which will surely see my productivity take a nosedive for the next 15 minutes to four hours.
This World Cup is stacked, and you can go to this
handy dandy website
(if you feel so inclined) to simulate which teams the US will face this summer in Brazil.
I've done it a few times, and the results are, shall we say, not pretty. Let's take a look at some hypothetical groups, and their respective predictions.
DRAW 1
Group G: Belgium, Ecuador, USA, Netherlands
This group, despite being one of the easier possibilities for the US, is still riddled with danger. Belgium stomped the US team 4-2 in a friendly in May on our home turf and are currently ranked fifth in the world. The Netherlands are a top ten team in the world and have ridiculous amounts of talent, and you can't count out Ecuador, especially playing on its home continent of South America.
Prediction: Netherlands and Ecuador advance
DRAW 2
Group G: Switzerland, USA, Chile, Russia
THIS IS A GREAT GROUP. Best we could possibly hope for. God knows how Switzerland is in Pot A, but this is a soft group if I've ever seen one. Russia won't know what heat feels like and will probably swelter to death, and though I'm afraid of Chile, I think the US can hang with the other two.
Prediction: USA and Chile advance
DRAW 3
Group F: Belgium, USA, Chile, England
I'm not afraid of this English side at all. They have no track record of success in recent international tournaments. Having said that, Chile and Belgium will be tough to beat. In this scenario, however, I'm oddly confident. We like playing against England, and that comfort level might seep into the other games by some weird mental osmosis. Going out on a limb here.
Prediction: Chile and USA advance
DRAW 4
Group B: Argentina, USA, France, Italy
We're fucked. This is the Group of Death. France squeaked into this World Cup by the skin of their teeth, but they're still a damn good side with one of the best players in the world patrolling their midfield. Don't get me started on the firepower that both Argentina and Italy possess. If we kept our total goal differential to around -5, I'd be impressed.
Prediction: Argentina and Italy advance
There you have it. Just a few of the many, many scenarios that could play out for the USMNT on December 6. Pray for a Switzerland-led group, and somebody again explain to me how Pot 4 has the Netherlands, Italy, England, Portugal, and Greece???