Another scintillating World Cup preview. Check out the rest of the group previews here.
Group G: Germany, Portugal, United States, Ghana
This is the Group of Death. Let's see how the US can escape with their lives.
Prediction: Germany win group, USA second.
Germany.
"You've been a very bad boy."
Germany is clearly one of the favorites to win the tournament. It's not a question of whether they'll win this group, but more of how far they'll get once the knockout stages start. They're solid from front to back, with world-class players at every level of the pitch: Miroslav Klose up top (old, but still deadly for the national team), Mario Gotze, Mesut Ozil, Bastian Schweinsteiger, and Thomas Muller (to name a few) in the midfield, Phillip Lahm and Per Mertesacker anchoring the backline, and perhaps the world's best keeper in Manuel Neuer.
They'll be fine. Let's move on.

United States.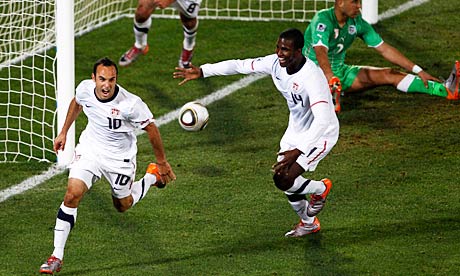 "OHHHH IT'S INCREDIBLE"
I'm fully aware that my prediction of the US moving on is based less on analysis and more on deep-seated, red-blooded American homerism. Having said that, let's take a look at how the US can escape this group.
As soon as the draw came out, everyone was moaning and complaining when we were drawn into Ghana's group, because they've knocked us out of the last two World Cups. Well fuck that. Where some see bad luck, I see motivation. Ghana is the weakest team in this group, and we play them first. Jurgen Klinsmann has stated the obvious in interviews: we NEED to beat Ghana in the first game. If we don't, we're screwed.
Fortunately, I think we have a good chance to pull it off. Our peak players are rounding into form at the right time, with Clint Dempsey scoring 8 goals through 9 games in the MLS and Chris Wondolowski netting 5. First-choice forward Jozy Altidore struggled through a tough season in English Premier League side Sunderland, but he always steps up his game for the national team. The US should go into this game with fire in their veins and revenge in their hearts, and I predict them emerging with a win.
And then, we play Portugal. The team that
Men in Blazers
described as "Cristiano Ronaldo and 10 other guys." Yes, they're ranked 3rd in the world. Yes, they do have arguably the best player in the world. And yes, they have world-class players like Pepe, Joao Moutinho, and Nani supporting the number 7. But. Hear me out.
First off, C-Ronny is
kinda injured
. And as he goes, so goes the team. Secondly, Portugal play Germany first, and that game will be an absolute war. They'll both be vying for control of the group, and that game may determine who wins the group outright. That game is the 16th of June, and the USA-Portugal game is the 22nd. A short training period, a first-match hangover, and potentially a few niggling injuries could conspire to hamper the Portuguese. We can pull out a draw against them, or veeeeery possibly a famous victory.
Then, we just have to hang on against Germany and pray for the goal difference to go in our favor.
Portugal.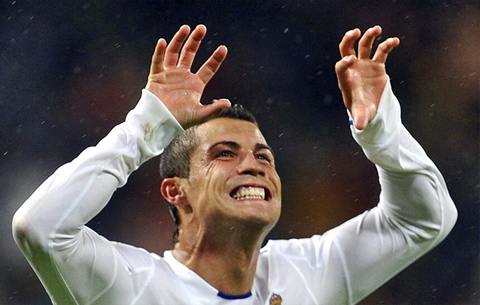 "Coochie coochie"
Again, rampant homerism here, but for all the skill and speed that Portugal have, I don't see them getting out of this group.
Portugal's World Cup history is a mixed bag. They didn't qualify from 1934-1962, then burst onto the scene in England with a third place finish in 1966. Then they proceeded to not qualify from 1970-1982, didn't get out of their group in Mexico in 1986, and didn't qualify again until 2002, when they bowed out of their group in Korea after a loss to the mighty United States. Recently they've been a bit better, with a fourth place finish in Germany in 2006 and a Round of 16 exit in 2010.
I'm thinking geography plays a part with this nation - all their good results have come in Europe (England, Germany), while less than stellar finishes (group stage in Mexico and Korea, round of 16 in South Africa) have come when they travel abroad. Brazil does not bode well for them, despite the familiar language.
I also feel that Portugal will be hampered, as they usually are, by the lack of a true striker. Or more specifically, the confusion resulting from the best way to use their best player, Cristiano Ronaldo. If I were the manager, I'd just put him up front and let him wreak havoc on defenders, with two wingers to whip crosses in to him. This is the case some of the time, but for whatever reason Ronaldo feels more comfortable out on the wings, where he can cut inside to hit shots or play 1-2s to get the ball in space attacking from the flanks. If I'm playing against Portugal, the further away from goal he is, the better.
He's their leading scorer and the main reason they're in the World Cup at all, all of which means that teams will be keying on him hard. If Portugal can't get goals from other places on the field, they might be in trouble.
Ghana.
Fuck this moment.
There is no question that this is the Group of Death. In almost any other group, Ghana would be a serious contender to go through. Aging but still tremendously skilled players like Michael Essien, Sulley Muntari, and Kevin-Prince Boateng anchor the Black Stars, and scourge of the US Asamoah Gyan is a threat in front of goal.
They've also played some meaningful games lately. They took on all comers and nearly conquered Africa, coming up just short in the African Nations Cup final, where they lost on penalties to Libya. They have tune up matches against Montenegro, the Netherlands, and South Korea before their first group stage match with the US, which will test the limits of their skill.
If the tenet "Know thine enemy" has any truth to it, then the US should be well prepared to face these Ghanaians. The Yanks have gone out to Ghana in both of the last two World Cups, and this is quickly turning into one of the most unlikely rivalries in world football (at least from a geography perspective).
I'm not sure if Ghana can keep their nerve in this group if they lose to the United States in the first match. My prediction for them involves a loss to the US, followed by an utter collapse as their World Cup dreams drift away.