EDITOR'S NOTE: Luis Suarez has fled to the greener pastures of Barcelona. I wrote this post before that, so disregard Suarez references. The games remain just as important, however. No one player is bigger than the cloob.
The US is out of the World Cup. The Red Sox are horrible. The Patriots are doing their little minicamp thing. The Celtics just drafted a complete crazy person. The Bruins just let Jarome Iginla walk. Aaron Hernandez is still in jail.
OK, that last one I'm actually fine with.
Regardless, it's a tough time to be a sports fan, particularly in Boston. All we can do is look forward and analyze (a sentence which, if the last word is pronounced differently, could be referring to butt stuff).
I'll leave the American football previews to the many who eat, sleep, and breathe that kind of thing, even as they fill their Depends with
happy accidents
.
Instead, let's discuss the glorious Reds of Liverpool Football Club.
They earned a 2nd-place finish in the English Premier League last year on the back of an outstanding offense. Led by Luis Suarez and Daniel Sturridge, the Reds poured in 101 goals in 38 games, for an average of 2.65 goals per game.
Pro tip: Bet the over on Liverpool games.
Yes, they have world football's answer to Hannibal Lecter on their team (or more precisely, off their team for the first 3 months), so the output might be curtailed a bit. But they've brought in two young English lads who can bulge the onion bag with the best of them in Adam Lallana and Rickie Lambert. That oughta tide them over.
Alright, enough jabber. Onto the games. In descending order, these are your most important Liverpool matches of 2014-2015.
If You Watch One Premier League Match All Year, Watch This One.
August 23
Manchester City vs Liverpool
The two top teams from last season face off in this early-season clash in Manchester. Though Liverpool holds a hometown rivalry with Everton and a historical blood feud with the
red side of Manchester
, City are rising up the rankings as a team to hate with the points of a thousand Suarez incisors. Mainly because they're what the Brooklyn Nets would be if LeBron, Wade, Bosh, Kobe, and Carmelo all played there at various points and won championships (Arab oil money vs Russian diamond money, but 'tevs).
City and Liverpool were so offensively potent last year (both teams eclipsed 100 goals, with the next-closest scoring only 71) that you might think this game will end up like 6-5 or something.
That probably won't happen. Just like in baseball, the offense of a Premier League team takes a few weeks to come alive. Teams need to feel each other out and get used to new teammates' playing styles, plus everyone's flopping isn't even close to midseason form. This match is only on the second weekend of the season, so I'm guessing City will squeak out a close, 2-1 type victory.
Pro tip:
Bet the under in this game.
Pro tip:
Heed my pro tips at your own discretion.
This One Could Determine The League, So There's That
May 9
Chelsea v Liverpool
Season-ending predictions at this point are about as useless as shit through a goose (I think that's the phrase), due to transfers, injuries, suspensions, managing errors, and some teams just playing inexplicably shittily.
However, going off recent performance, there's every reason to expect that this match could determine the league. It's the third to last match week of the season (or, as various British oddballs refer to it, the "pointy end," "squeaky-bum time," or "36/38ths, which of course reduces to 18/19ths.").
Both teams will (theoretically, at least) be fatigued from a season-long Champions League effort. This one might come down to who's freshest, and who has the deeper bench. Lallana and Lambert are looking better every day. Physically and metaphorically.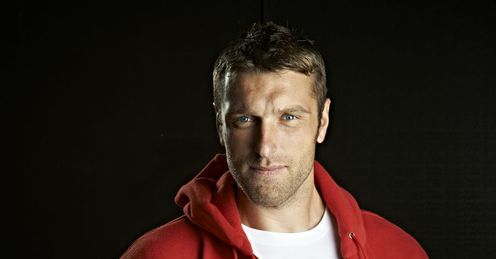 Hoodie sold separately.
The One You Watch Because It's the Derby
September 27
Liverpool v Everton
A derby is a local rivalry. Liverpool's rival is Everton. You can find a more detailed explanation here, but basically, watch this game if you like sports because it's as close as we get to whatever the fuck happened in Rome's Colosseum.
Pro tip: If there's an over/under for yellow cards, bet the over.
Also Tim Howard plays for Everton. He's rather good.
This Game is Important And Not Just Because It's the First One
August 16
Liverpool v Southampton
Would this face lie to you?
Whenever these types of previews come out, the first game of the year is always highlighted. Why? Cuz, fuck, the games are back on! Gather round the tube and drink in the wonder!
That's horseshit. As mentioned earlier, the first few games aren't very fun. In fact, it took until Liverpool's fourth match last year to manage two goals.
This game is big not because of its timing, but because of its characters. While the Terrible Tooth (TM) will be playing with his
ni
ños, his position may well be occupied by a dude who played for the opponents last year.
With the summer transfer window well and truly open, and big names moving between European clubs, Liverpool have snatched up the aforementioned Lallana (the boyish lad above) and Rickie Lambert from the southern club to add even more fuel to their attacking fire. This game should be fun.
Pro tip:
Bet on Lallana or Lambert to be the first goalscorer. It probably won't happen, but if it does, you'll look like a genius.

Watch This to Seem Knowledgeable at Holiday Parties
December 13
Manchester United v Liverpool
Man U are one of those teams that everybody knows, despite whether they know anything about soccer. So, as soccer becomes bigger and bigger in the States, some people might start to find themselves feeling left behind, much like the people in that new HBO show that
everyone's raving about
.
You can help these people. You can be the bridge between the known and the unknown. Watch this match, then strike up a conversation at your nearest holiday party (before you get belligerently drunk on eggnog and bourbon) that features most or all of the following topics:
Suarez's teething tendencies
How Brendan Rogers (Liverpool's manager) can keep all the attackers he has at his disposal happy with their playing time
The relative lustrousness of Steven Gerrard's and Wayne Rooney's hair.
Whether United will ever return to the dominance of the Sir Alex Ferguson years
How many shitty cover bands called "SAS" are playing dingy Liverpool bars at that moment
That one time that David Moyes managed Manchester United and then signed Marouane Fellaini (feel free to engage in a knowing chuckle here)
That one time Liverpool's Kolo Toure had a two-year affair with a woman by claiming he was a used car salesman named Francois. Seriously.
So there you have it. The biggest games, ranked and discussed. Can't wait to get this shit started.
YNWA