Just to be clear, I love me some Phil Mickelson. The guy is a genius with a golf club in his hand, and one of the best players to ever play the game. He's finished second at the US Open a record 411 times (just kidding it's
six
, but still), and, as usual, he's
jazzed
to get started at Pinehurst tomorrow. Ctrl+F "excited" in that link. It's like a damn Tim Tebow press conference.
Some people think he's finally going to get over this US Open hump, just the way he did at Muirfield last summer, and take down the career Grand Slam. Here are 6 reasons why that simply won't happen. And one why it might.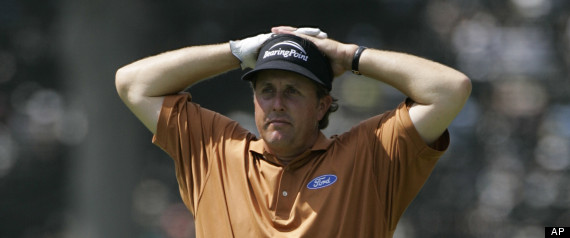 Shucks
No lefty has ever won a US Open.
Only one player has won a US Open at an older age than Phil's 43 years, 364 days (yup, it's his birthday the day after the tournament ends), and that's Hale Irwin at 45 years, 15 days.
The tournament has only been played at Pinehurst Number 2 twice, and neither winner on those two occasions grew up in the Western U.S. Time Zone.
In fact, seven of the last ten US Open winners have not been American.
No man with the initials P.M. has ever lifted the US Open Championship trophy.
More startlingly, not only have zero Phils won this event, but there's nary a Paul, Peter, Patrick or Prescott to be found. The only winner whose name starts with a "P" is, you guessed it: Payne Stewart.
ALTHOUGH
The US Open has only been played in the Southeastern United States three times. Twice at Pinehurst and once at Atlanta Athletic Club. Of those three winners, two of them (Payne Stewart and Jerry Pate) had names (first or last) that started with "P".
This has been your astonishingly dumb US Open preview. Jim Furyk or Matt Kuchar will win.